Students & Residents
---
Trevor Canty, MS2
First, thank you to the NHAFP for sponsoring our trip. It is greatly appreciated. I had a wonderful time connecting with fellow students across the country, even running into a few old friends from Montana and Wyoming (I'm originally from Montana)! It was invigorating to be around so many people excited about the practice of family medicine. MSK ultrasound, POCUS and the RUSH exam, diabetes management, and EKG interpretation were some of the skills I was able to explore in just two days at the conference.
As an MS2, I was able to learn a lot about the residency application process early. For example, knowing different programs' emphases on obstetrics is a vital part of finding a good residency match, a nuance I was unfamiliar with. I was also able to explore the range of fellowships and additional training offered after residency—having just completed a wilderness medicine elective and certification, I am particularly excited at the prospect of continuing that education even beyond residency through a fellowship.
Jade Enright, MS4
The AAFP conference was such a valuable experience. It gave me the opportunity to have critical conversations with residents and program directors at programs I was previously interested in and at programs I didn't yet know about. I was able to get the "feel" of programs in a way I was never able to achieve through website reviews. Not only did I get to explore programs I would never have otherwise discovered, in having many many conversations with programs I began to see patterns in my questions and gain insight into things that were important to me about a program that I hadn't previously reflected on. Since the conference I can't count the number of times I have said to a peer in discussion about residencies, "so Family Medicine does this cool thing every year," or "I realized when I was in Kansas City that I really care about…." I feel so much better prepared going into application season than I think I otherwise would have, and it feels like such a privilege to feel as informed as I do.
Sasha Pashchenko, MS4
The AAFP conference was critical for me to be able to get more information from programs to better understand if the program was a good fit for me, and this conference aided me in finalizing the list of programs I wanted to apply to. Since I'm couples matching this year, I was also able to ask questions about this specifically in a less formal setting than interview day. I was also able to make connections with residents and program directors that I believe will be important to continuing a relationship with the program throughout interview season. I'm unbelievably grateful that I was able to attend this conference and am much more confident in the programs I am applying to. I'm also that much more excited to be applying into family medicine!
Emily Pengelly, MS4
The best part of this conference, for me, was being surrounded by so many other medical students who are interested in family medicine, hearing about their experiences and seeing all the cool things they are doing in research, public health, and community service. It was genuinely inspiring. I also enjoyed getting to talk with so many different residency program directors and residents from different programs. It helped me clarify some aspects of what is important to me in applying to family medicine residencies. In addition to the networking opportunities I was able to attend several lecture sessions including two phenomenal talks on direct primary care and gender affirming care. I learned how direct primary care can help increase access to care and decrease healthcare disparities in underserved or impoverished communities as well as effective, culturally humble ways to take a sexual history from any patient. I'm so grateful for the opportunity to attend this incredible conference.
Lucy Skinner, MS4
The AAFP conference was a wonderful experience for me! I really enjoyed the residency expo hall. It was so helpful to have the opportunity to meet residents and residency directors and learn more about programs. It helped me figure out my application list, realize aspects of programs that are important for me, and has facilitated continued communication between the programs that I was most excited about. I was so energized by all the students, residents, and faculty who were so excited about family medicine and about recruiting the next generation of family medicine physicians. I loved the breakout session that I attended, with topics such as rural healthcare, applying to residency, and trauma informed care. Attending the conference helped me feel certain about my choice to apply into family medicine and excited about the application and interview process. Thank you so much for supporting us, I am so grateful that we were given the opportunity to attend the AAFP conference!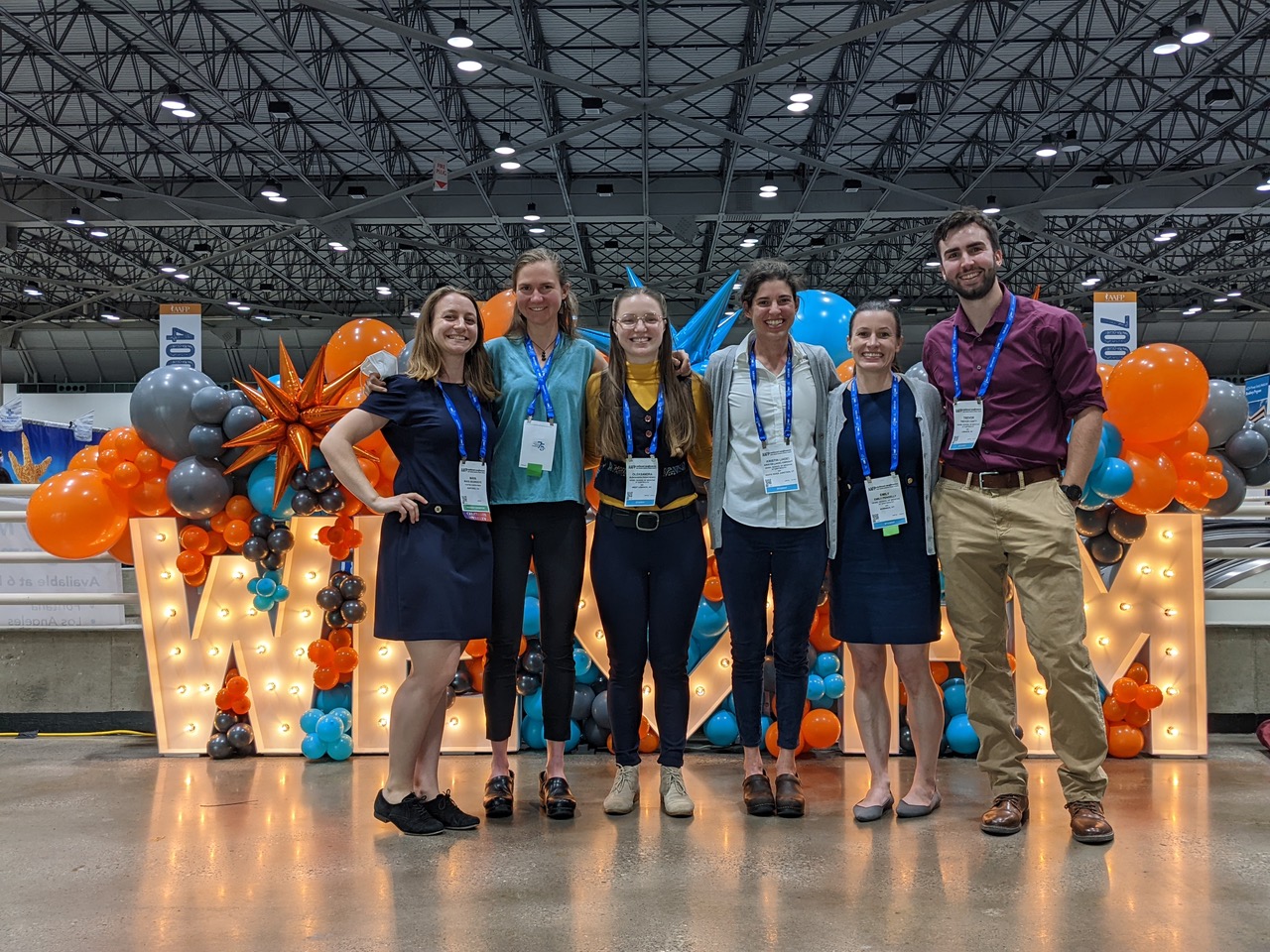 L to R: Maya DeGroote (Geisel '21, now an R2 at Contra Costa - Martinez CA), Lucy Skinner, Sasha Pashchenko, Jade Enright, Emily Pengelly, Trevor Canty
---
Tianrae Chu (MS IV)
Even in the virtual space the camaraderie of Family Medicine could be felt. I found it particularly helpful to hear the ideas of leaders in the field and to have an opportunity to explore options for my residency training. This was my first time attending the conference, and I'm very appreciative of NHAFP's support.
Ashley Dunkle (MS IV)
Thank you so much to the NHAFP for sponsoring me in the virtual 2020 National Conference. I had SUCH a wonderful experience. I talked to so many programs and attended some fantastic talks. It made me get really excited about the residency application process, despite all of the changes and uncertainty this year. The conference truly reaffirmed that family medicine is the right specialty for me and I can't wait to join such a dedicated group of doctors when I become a family medicine doc. Thank you for your generosity!
Kayla Hatchell (MS IV)
I am very thankful for the support of the NHAFP for my AAFP National Conference registration. Though the conference was virtual this year, it was still helpful to took at the residency booths and talk with program directors and residents from a variety of programs. The excitement and energy about family medicine was still tangible in a virtual format, and the conference renewed my excitement about applying to residency programs this fall. Thanks again for the support!
Meave Otieno (MS II)
This year, I had the opportunity to attend the virtual AAFP National Conference for Family Medicine Residents and Medical Students with a scholarship from the national program!
Even through the virtual platform, I experienced my favorite parts about attending medical and research conferences. The very first session I attended incorporated discussion on health equity and global health. I believe that globally, the extension of primary care will improve healthcare access, and have a profound impact on individual, community, and population wellbeing. It was great to hear the panelists talk about their experience with family medicine stateside, and how they're supporting healthcare access here, as well as abroad.
My other favorite session was on community engagement and social justice, which hit on some of the same topics for healthcare access, but also had discussion on the role of primary care practices in communities undergoing intense social unrest like the communities in Minneapolis following George Floyd's death. Furthermore, I'm not sure if it was in this same session or a different session, but there was a discussion on how some minority populations in the U.S. do not trust the healthcare system, and how as primary care providers (especially when we ourselves are minorities) can bridge this trust gap and improve that relationship.
Overall, I very much enjoyed attending this conference! I'm glad that as attendees we have access to the sessions that were recorded, as there were some lectures that I'll greatly benefit re-listening to, especially as I get closer to starting clinical rotations and applying for residences.
Thank you!
Patrick Tolosky (MS IV)
During the AAFP conference I was able to spend some time talking with different residency programs that I am interested in, and it was both extremely informative and also fun to speak with residents, program directors, and staff. We chatted about strengths of different programs, where they see the program going into the future, and more personalized questions such as how to incorporate experiences and training in public and population health (one of my strong personal interests) into residency. Being able to ask questions while not actually being on the interview trail, I felt, opened up the conversations and it was easy to ask about all sorts of topics; do the residents feel supported by their program? How do programs support the transition from M4 to intern year?
Additionally, I was able to attend a few informational sessions on different topics within the family medicine umbrella. I attended a session on direct primary care which, up to that point, I knew absolutely nothing about. This is a potential interest of mine going forward now. I also attended a discussion on global health that revitalized my passion for this work when it is done sustainably, ethically, and in a community oriented way as the presenters were focusing on.
All in all, the AAFP conference added some fuel to my Family Medicine gas tank after a long year of clinical rotations and the challenges COVID has presented to our learning in recent months. I am grateful to the NHAFP board for supporting us in attending this conference and helping nourish our roots of why we came into medicine, and why we are going into family medicine. Thank you!
Emily Young (MS III)
The national conference showed me a wider range of what my future in FM could look like. There were lectures on different payment systems and their pros and cons, what the different paths to and within FM maternity care look like-and data on how adding it to your practice increases satisfaction and income. The residency program "tables" were also super helpful. I had a great time in particular talking with Montana Kalispell and Missoula and Northern Light Maine on their zoom calls because not only did I enjoy talking with the residents and program directors, I also enjoyed talking with the other students in those rural programs! Similarly, the rural health interest group meeting was delightful! I loved hearing the experiences of all the cool attendings in tiny towns and learning from the questions of other students looking toward the same career.
---
New Family Medicine Residency - do you have an interest in teaching?
We are excited to announce the creation of a new Family Medicine residency in Portsmouth, NH based at Portsmouth Regional Hospital. We are proud to have selected our first class of residents. They are a diverse group of bright graduates from both US and international medical schools and they are eager to get started in July.
As you likely remember, the foundation of the resident educational experience is the continuity clinic in which residents care for patients across their lifespan and develop continuity relationships with a panel of patients. We are looking for Family Physicians interested in educating the next generation and disseminating your hard earned knowledge. Working with energetic and excited residents for a half-day session a few times a month helps reinvigorate your passion for medicine, supports your effort to stay up-to-date with the most current medical evidence, and helps spread the goals of Family Medicine.
Do you remember that trusted mentor who helped lead you through the challenges of residency or gave you daily clinical pearls? Here is your chance to have that same lasting impact on these new residents who will help to increase Family Medicine access in New Hampshire.
Thank you for all you do to care for the people of New Hampshire and we wish you the best during these challenging times.
If you have interest, please email Rory Richardson, MD at
Rory.richardson@HCAhealthcare.com
"Opportunity is missed by most people because it is dressed in overalls and looks like work."
- Thomas Edison
---
1st and 2nd year Geisel medical students learning skills and the scope of Family Medicine from Maine-Dartmouth Family Medicine residents and faculty.